Today, the whole world is facing an unprecedented threat due to Corona pandemic. No one would have imagined the kind of impact it would have on our lives and economy. We are in the dilemma of saving life versus livelihood. These impacts are going to be far reaching on Indian economy and especially more on small businesses. We are aware that due to lock-down, the businesses are standstill and after lock-down ends, they may start crawling at the best. In such situation, you can still grow your business with the help of the best web hosting.
Assets you still possess even in Corona Pandemic lock-down
Being a bold, enthusiastic businessman you have started your own business and managed it well till last month. Are you going to allow just one pandemic like Corona to washout all your efforts? Even in a lock-down situation, see what you still have to create more opportunities?
Two important assets, one is enough time at hand (previously you never had time for yourself due to daily chores of business operations) and access to digital technologies & internet is the second.  Using these technologies one can create a virtual office on the internet with best web hosting. With these two, one can think of making something which is nothing short of a miracle for your business.

Re-invent yourself digitally with best web hosting
With plenty of time at your hand, now you can start thinking on
How to keep my customers engaged?
How can I reach my existing and new customers in new ways?
Will my brand be more visible?
Can I offer something more using the digital technology which was not possible in brick and mortar style?
Can I complement my existing offerings with some new ones and expand my business?
Answers to all these questions are easily available using digital technologies and internet. And the most important point is that all the solutions to these questions can be executed sitting at home. The primary step you need to take is about selecting the best web hosting provider. Once you do that, many of these things can be worked out easily and even put in the automation mode and hence they will keep on working in the background for you when you are resting.
Success due to correct choice of best web hosting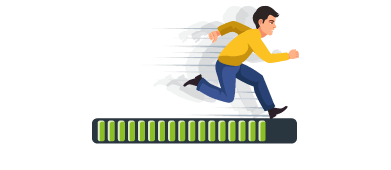 One of our customers working in the classroom training domain was forced to quickly adopt the digital way of online learning. This not only secured its business in such bad days of due to Corona lockdown but got confidence in starting a completely new line of business of online courses. Due to the best web hosting provided by MagicWorksHost, digital marketing campaigns paid of well reaching to maximum number of customers.
One of the customers website load time was 8.6 seconds. There was very poor traffic towards his website. When the website was shifted to MagicWorksHost, the performance got boosted magically with its best SEO web hosting. With website load time of 0.7 seconds, the traffic increased by 1000%
What is surprising?
All these digital tools and technologies used on internet like web conferencing, website, emails etc. existed for many years. But, nobody thought of using them. The silver lining of this Corona pandemic is that it forced us to use the digital technology. The adoption of using these digital tools is growing like crazy as many people are sitting at home.
See the incidence which happened some days back. Normally turnaround of participants for a webinar is limited 50-60. This time in the days of lock-down the number of participants actually jumped to more than 500. And guess what! The main speaker was not able join it due to this.
Now this is not funny! What it indicates? Your customer wants your business to be online, what you think does not matter at all. So, why wait?
Answers to all your questions about web hosting and taking your business online
You may have questions and concerns about how to start. How do I search for the best web hosting provider? Will I be able to take my business online or not? I do not have much knowledge about how to do this? Will this cost me too much? Does it even make sense for my kind of business to be listed online? And many more.
Do you have questions/doubts about best web hosting and taking your business online?
Following are the articles which might interest you. Please keep on reading and sharing your views.
5 Reasons for not taking the business online with best web hosting and what is wrong with them
Re-invent digitally: 3 Quick Steps which can take your business online very fast with best web hosting
Guide for starting your online store
So, do not sit back. Take action right now. Look for the best web hosting provider. Let the world know about your products and services with a prominent digital presence.